Uncategorized
"You don't act 23."
That statement rolls off of someones tongue at least once a day. I've never been the type to want to show my age. I'd rather everyone think I am way beyond my years and have it all together. But lately I've been questioning myself – Why am I in such a rush to get older?
Everything has always been laid out for me like someone had showed me my deck of tarot cards and I was on a mission to follow them. Graduate high school, go to college for the one thing I knew I wanted to do, get my degree, get a good job, move out, etc. etc. etc. Now that all those childhood long-term goals have been completed, I'm starting to see all the things that I missed along the way, so many chances to be stupid and carefree. I've never been carefree and willing to let myself make silly, immature mistakes. But what if we really are supposed to make them? What if I was so focused on growing up, I forgot to actually be a teenager, and a 20-year-old and a 21,22,23-year-old?
It's never a bad thing to be the responsible one. The one with a good head on their shoulders. But it is always a bad idea to skip out on the fun for the sake of being good, being bright, being mature.
I told myself while in college "Study now, party later". I knew that when I graduated college, partying would be so much better because I would have the money, the apartment and the means to have fun. But now that I'm here, I need to start living for the "good in life" and not just the "what's right in life". I need to start letting my guard and ambitions down just a touch, so I can start seeing the beauty of the world, and not just the bills.
If you asked me if I could go back to college and party more, I would say you're out of your mind. But I do wish I let myself live a little more. I wish I let myself go out a little more, and blow things off a little more. I'm still so young, so now I'm ready to feel it!
Ellen is not like most people. She is not boastful nor proud, but kind, positive and loving. Her talk show focuses on a mixture of achievements, tough times, and regular people just doing the right thing and aims to point of the positivity in everyday life. Not only does she point of the kids who have memorized presidential facts, wives going through a rough patch while their husbands are deployed or regular people who take the time to help a "troubled" delivery driver pick up fallen goods, but she does it all with extreme generosity and sincerity that leads you to believe she is really that kind of person.
Instead of making an app of herself to make more money like Kim Kardashian or transforming her personality to be more like the others like Taylor Swift, she's stood up for herself, the little people and what she believes in. She is true to herself and doesn't falter just because times are changing.
In a mature, 23-year-old way, I was always of fan of Taylor Swift for the same way she treated regular people like their lives matter too. But lately, Taylor has seemed to changed course and has hopped on the fame train with all the other musicians and celebrities. She doesn't seem real anymore.
I've read Ellen's book "Seriously… I'm Kidding" at least 4 times. The way she ties in serious subjects with humor and light-hearted fun convinces me that being that kind of person is a capability. No matter what I do in life, I want to spread joy and possibility wherever I go. I want people to look at me and know what being true to yourself and your morals is possible. You don't have to blend in to the harshness of the world to be liked. You don't have to join in on the gossip to feel like you fit in. But you can be like Ellen, and always put others first, leaving every day saying "Be kind the one another".
"A positive attitude causes a chain reaction of positive thoughts, events and outcomes. It is a catalyst and it sparks extraordinary results."
Life throws you a ton of curveballs. Tuesday could be the best day of your life – you're just bopping along, making money, driving to work, texting with friends, eating french fries on your living room couch and then BAM. Wednesday comes and your world becomes a dart board and hurtful and negative words are aimed straight for your core. To eradicate the things in life I cannot control, I realized and put into motion two simple plans.
Step 1: It's hard to see through the hard times and search for what is still good. It can be difficult to stay true to your positive, happy soul when others try to tear you down to build themselves up. Lately, I started reading positive quotes in the mornings before I get up. I scroll through Pinterest, looking for the perfect quote that will get me through my morning and out the door. I usually try to tweet them out to share a little #morningmotivation with my followers (@MarkellaHaynes). Such a wonder what a few mindful, optimistic sayings can do for your integrity! Unfortunately, you can't help what others say, do, or express, but you can change how you're going to start each day. Reminding yourself that things will get better and you're not the only one truly helps me put my feet on the floor and start my day.
Step 2: Do what you love. The old saying goings "Do what you love and you'll never work a day in your life", but let's face it – love doesn't pay bills. No one's going to pay me try new ice-cream flavors at Ben & Jerry's (but if someone is offering, I can send you my resume!)  It's important to have a job that you love, but coming home to sit on the couch doesn't really make my heart beat any faster.  I've realized, after straying from being a "college student" and growing into an adult, I love volunteering. I love community service and helping others through tough times. I applied to a women empowerment and community service organization to start doing my part in my community and feeding my heart strings.
Wash away the negative experiences from yesterday and train yourself to be better. Even if you end the day disappointed and upset, start the next day with a clean heart and an open mind. Do the things that make you happy, even if some hours of the week you just have to buckle down and get work done. Be free, positive and strong and suddenly, the hard things won't seem so bad.
We've all seen that classic chart. The diagram that points out your obvious qualities and traits based on where in the birth order you fell. For me, it always looks a little something like this: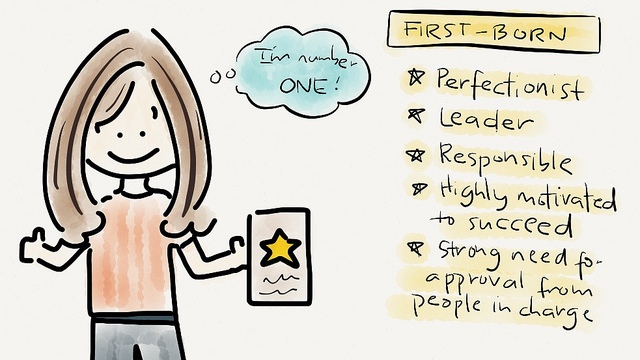 ..along with loud, controlling, eager to please. As the oldest, you're forced to set an example, whether you like it or not. Your siblings look to you to be their first best friends, their first peer mentors.
As my younger brothers grow more into their own, I'm compelled to look into these type of theories and charts to see what they may be struggling with simply based on how they were born into our family. Today it hit me, while I was texting them asking if they wanted to go to the mall with me later. We joked around and texted back and forth poking fun at one another. It hit me just how much I loved my brothers and how much I love being the oldest for them. It's never been easy having to figure out things on my own. Learning to drive first, moving out first, going to college first; it's hard doing it by yourself. But I wouldn't change it for a second if it meant that I wasn't able to be a leader to my brothers.
They are so cool. And I mean it. They have their own personality quirks that I don't always agree with, but I do feel like they look up to me. And I take that responsibility seriously.
The other day my brother asked me where was a good place to bring a girl for a date. What is this? A lifetime movie? Is this the Disney Channel? I had to pinch myself to make sure I was reading the words correctly. He was asking me for advice on a sensitive topic and it made me die with happiness.
Being the oldest is such a blessing to me. Being able to help shape them as young men is a big responsibility, but being given the chance to do so is such an amazing, wonderful part of my life.
I remember the last couple days of 2013 – Kyle and I were driving in his car talking about how much happy, new adventures 2014 was going to bring. And it sure did deliver!
There's a trending hashtag on Twitter at the moment "#2014in5Words" and I decided to give it a spin.
New – accomplished – changes – love – grow #2014In5Words

— Markella Haynes (@MarkellaHaynes) December 21, 2014
1. New
2014 brought so many new experiences to my life, it's uncanny. In 2014, I graduated college, moved out of my parents house, and landed two full-time jobs. I bought a new car and bought enough to furnish an entire apartment with the two pennies I could rub together. This year had so much newness that I truly feel like another person than I did just a year ago. I feel more like an adult, obviously not very seasoned, but trying my best to survive and doing a pretty good job at it!
2. Accomplished 
This year was full of big, but also very little accomplishments that have made me extremely happy. First of all, I graduated with my BA from FAU and by the skin of my teeth I achieved a 3.5 and graduated Cum Laude – despite my almost full time work schedule, and being president of clubs and an active member in honor societies. I felt like it nearly killed me, but my persistence paid off and my achievement is printed smack tab in the middle of my degree.
3. Changes
This word is the biggie. Let alone what I've mentioned in the last two 'words', but this year I completely jumped ship from pursing a job in news and landed an exciting new job in advertising. Since I was in 5th grade, news just seemed like where I was going to end up. I was an anchor on our elementary school morning announcements and took TV production classes all 4 years of high school, so my degree in journalism just seemed obvious to use in news. After working as a camera operator at WPTV and loving it, I knew where my heart was. But after I got my full-time job in the newsroom, I realized it was not for me. As soon as I realized the popularity and being able to say "I work for the news!" didn't pay my bills or make me feel like the positive person I was, it was time for a change. I now work for an advertising agency and I am so much happier. It's what I envisioned myself feeling while at work. It's obviously not my last stop in my career path, but it's an amazing first step.
4. Love
Really, this word is a part of every year, but I included it anyway. This year has yet again proved to me who truly loves me and is here for me. I've always been very busy, very wrapped up in my own life to have too many friends that drag me down. This year Kyle and I moved in together and suddenly the flood gates of love came pouring out — not only from my boyfriend, but also from my family. My family spent an entire day moving boxes, putting together furniture, helping us unpack and grocery shop for us to feel comfortable in our cozy new apartment. They have given us countless encouragements and have never once openly doubted that we're not going to make it on our own. But Kyle has also been a big love bug. He surprises me with little things all the time and it makes me so happy. I get to fall asleep next to him every night, even if he doesn't get home from work until 2am and I have to be up at 7am. We make it work and he has just been the sweetest. He grocery shops for all my favorite foods, leaves me gifts and little notes around the house and hugs me every time I come home.
5. Grow
This year was all about growth. Growing into my own person with my own goals and dreams. I started to become stronger and more grounded with who I am and what I want. I realized so many things about myself and love the way I feel when I'm driving to work just before 9am, listening to the radio, drinking my tea and thinking that I get to go to work at such an incredible agency. Going to work and learning new things everyday has kept my attention span and I couldn't be happier. I've learned to juggle rent, a car payment, insurance, water, electric and credit cards. It's been a whirlwind of new, accomplishing, changing, loving, and growing experiences, but it has all pointed me to be sitting here on a Sunday morning, waiting for my boyfriend to wake up so we can go buy Christmas presents for our loved ones with the money we earned.
So happy.
And I'm on to my next adventure!
In the past three months, I've completely changed career paths and I am so happy I did so. Spending more time in the newsroom, I started to realize that I wanted to be happier. Not that there was anything wrong with my workplace, but I knew something wasn't right.
The sad truth is this: News is depressing and I am not.
So I changed it. I saw an opportunity, did a cross-my-heart-hope-to-die-stick-a-needle-in-my-eye kind of dance and tried something new. I am now a social media coordinator at an amazing advertising agency and once again feel my goofy, light-hearted mood coming back.
I also moved in with my best friend and boyfriend of six and a half years. I've never been so confident that this is the person I'm going to spend the rest of my life with. He surprises me with cute sticky notes, stocks the pantry full of my favorite foods, does the dishes every morning and lets me hog the bed a little too much. The warmness I feel in my heart when he comes home from work and asks about my day is a feeling I want to have with me forever. No arguments yet — just a lot of laughter, talking and watching him eat his bologna sandwich with sleepy eyes because I've been up since 7am and he didn't get off work until midnight. It's so comforting coming home to my own space and not feeling overrun by everything around me.
Casey Musgraves once said, "Say what you think. Love who you love. Cause you just get so many trips around the run. You only live once. So follow your arrow wherever it points."
I feel that I'm doing just that. The more I learn to go with the flow and trust how I feel, the more I feel at home in my own skin and in my life.
Shoe references just seem to fit my current situation so well.
Up until this morning, I felt like a little girl wearing her mom's big grown up shoes. I was walking around the world stumbling and trying to find my place and force others to believe that I was the owner of these beautiful, black wedges and I knew what I was doing. After every trip and wrong turn, I felt compelled to prove to others I wasn't the little girl I appeared to be, but an adult.
I heard it so many times. "You're SO young! You're such a baby! Were you even born then?!" 
Being the youngest at work was usually one of my little joys. I was at the same level as all these well established men and women, but they saw right through me to who I still was. A little girl.
Every morning I slipped on a pair of heels, feeling awkward and out of place, and walked out the door trying to make others see who I felt like inside. I wasn't the 22-year-old newbie, but a smart and ambitious young woman with goals to accomplish.
It never worked. I always got the same comments: "You were born WHEN!?" That little joy of mine started to fade and I became self-conscious and bummed out.
I was the baby. 
But today, in some odd, magical way, the shoes finally fit. 
I wasn't tripping or dragging those heels around anymore. I wasn't stuffing socks in the toe to make others believe I was an adult and I fit my new role. Suddenly, I just was one.
Cleaning my own apartment, cooking lunch and spying that beautiful new car in the parking lot, I finally felt settled in my new world. 
I look around and feel proud that all the finishing touches to this apartment, including the walls, water, electricity, cable, Internet (excluding this awesome couch housewarming present from my parents! Love you guys!) was all because of my hard work.
My new world is finally feeling like my own. 
And let me tell you, I am rockin' these big girl shoes. 
I'm currently standing at a crossroads between what I've ever known to be reality and the rest of my life.
I'm wearing one bright white sneaker with pink flowers with frilly white socks folded over, ready to run out to the caterpillar jungle gym at Manatee Elementary and one black business high heel ready to take the career world by storm.
Not going away to college gave me some of the best years — being able to understand my parents at the level of an adult and spend four more years learning and growing with my family. While many of my peers chose to jump into the deep end with their floaty wings on, I chose to stay in the shallow end and learn to tread water myself.
Now here I am. 22-years-old. Awesome job in advertising making more than many of my friends. Steady, committed relationship of nearly 7 years. Ready to start making my way from the 4-feet kiddy pond to the big people 10-feet deep end.
Tonight is my last night in my childhood home with my family. I have lived on Providence Road since I was 5-years-old. And as much as I have taught myself to hold in my sadness and look for the positives, I can't help but well up every time I hear that my parents will miss me. It's quickly gulped down and met with laughter and a sly joke, but the feelings are there.
With great excitement and mystery comes great fear. But I'm ready to feel the fear. I'm ready to test out my strength and get moving on what Markella's life will be like. Unfortunately that means leaving the thing I've ever known to be home behind, but I think I'm ok with that. It's just unsettling knowing I won't be coming back here.
And to look on the bright side, I know my family and I will be closer because of this change. We won't be at each other's throats with annoyance. We'll have our space. It will be better. My brothers will come over to borrow movies. My mom will come over and tell me how dusty my apartment is and drink wine and laugh with me. My dad will rescue me when I'm drowning in my own life and need someone to debate things with.
I'm sure my mom is a big ball of emotions as she's reading this. She's checking my grammar because she's my personal editor on this blog, whether I asked for it or not. But I just want you to know I am just 5 minutes away. 5 minutes more to get to my house after work. 5 minutes to stop by whenever you want. Anytime.
Another major positive is that I get to move in with the love my life. Since even before we were officially together, we would sit on the phone late at night, day dreaming about living together, waking up together, cooking dinner after a long day, getting mad when the other leaves the toothpaste uncapped. When one chapter finishes, another one begins. It's just hard to turn the page when I loved this chapter so much.
I know I'm not dipping my feet into murky water, uncharted territory. I have Kyle there to help me through. And the undeniable support from my family at home.
This will be a good thing.
Question: What does Florida Atlantic University alumna Markella Haynes '14 have in common with the television character Jack Bauer?

Answer: Markella and Jack have both demonstrated the ability to accomplish more than a few things in "24" hours.
On Monday, Kyle and I signed our lease for our first apartment together and the butterflies have yet to cease. I chose the responsible path in college, saving myself some pennies by staying home, living in my parent's house as I finished up my education. And finally, finally we feel like we are in a reasonable financial place to make a place our own. Break out the champagne! I'm a renter!
Now it may not be the most gorgeous or the most updated, but every penny going into it is all ours and I couldn't be more proud of us. We had to get renter's insurance and put electric and cable in our names and it feels so right. We already started buying furniture and dipping into those savings we worked hard to maintain.
Along with this, it's been a month since I started my full-time job at the station. I haven't started training for the associate producer side of things, but I am getting used to being an assignment editor while it lasts. I know being an AP and an AE is not where I want to stop. I'm not in my dream job just yet, but I am on the road to learning necessary skills that will lead me to a succ
essful future.
On top of all this, I was reminded just how grand my university was to me. A couple weeks ago I was offered to tell my story and how I got into my current position, and now it's the homepage success story! My big, tired face is plastered on the FAU.edu homepage as soon as you press ENTER. My story goes through my day-to-day activities as a studio camera operator, while being a full-time student and navigating clubs and honor societies. I wish you could truly put how hard I worked into words, but I think this comes pretty close to it!
If you told me to wipe this smile off my face, I would say it can't be done! Everything is falling into place so gently and I can't believe how things have worked out. It hasn't all been cake and I know it won't be in the future, but so far things have been so smooth. In my new job I'm learning more about myself and my skills than I ever knew before. My new home will be such a sigh of relief to finally make things my own. And being able to this all with the support of my healthy, loving family is more than I could ever ask for.